The PAKi Apprenticeship Programme will give you all the life and technical skills you need to build your career. Now is an exciting time to join PAKi as an apprentice working in our new work office and learning from experts. Read the full job profile APPRENTICE OFFICE MANAGEMENT below.<br />  
"It makes me proud to work at a company that is being respectful"
Make impact as apprentice Office Management
Our business is growing constantly and that also because of our former apprentices. As an apprentice in office management you will be trained in the the full range of interesting office tasks we offer in our different departments. You will be in interactions with our national and international customers as well with our service providers and your colleagues all over Europe, too. Apart from that you will plan, organise and control logistic processes and flows and support our customers to make their businesses run smooth.

PAKi
We are PAKi, the open pool service provider for the management, supply and relocation of standardized
exchangeable (Euro) pallets and containers. We efficiently and effectively help retailers, manufacturers and
transport companies across Europe with the handling of their specific load carrier needs. With our experience
and know-how we offer sustainability, reliability and efficiency in the load carrier management.
We carry impact with the reusable aspect of load carriers which helps both our customers and PAKi to reduce
the amount of waste and CO2 in supply chains. By implementing digitalization of all forms of business, we help
our customers to save both resources and time, leaving them to concentrate on their core business.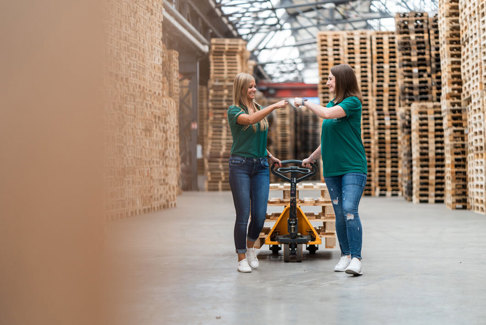 DID YOU GET CURIOUS?
How clever and caring would you like to be as apprentice office management? Feel free to contact Ricarda Jäger, Specialist Employer Branding & Apprenticeship, 02333-975395131 for more information about the vacancy or apply below!